Can This Be England?
By Jackie Bartlett, Angela Howard & Angela Neville
Can This Be England? underlines the obstacles which have to be negotiated by vulnerable people in order to gain financial assistance from HMG. It also reveals the stress caused to those called upon to implement complex regulations within a target driven welfare system.

Although the characters of Kate, a claimant with ME, and Abby, a job centre advisor, are fictional, their stories are based on actual experiences.

The play is set during 2013. Since then, the names of certain benefits have changed. Sadly, the system itself has not been improved.

Cast:

Kate - Jackie Bartlett
Penny - Jackie Lewis

Susie - Jeannie Baker

Kevin - Keith Flack

Alison - Jean Donald

Jan - Jan Andrews

Abby - Angela Neville

Fran - Marian Neville

Team Leader - Darren Egan

Mrs Bunting - Angela Howard
Directed by Angela Howard & Angela Neville.
Recorded and edited by John Rhodes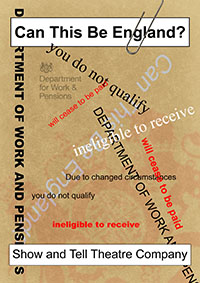 Click to Play or Download
---
Can This Be England? -  A Brief Overview
Can This Be England? was originally written for staged performances by Jackie Bartlett, Angela Howard and Angela Neville. The play is based on their personal experiences as befriender, advocate and employee in connection with the benefits system. As Show and Tell Theatre Company they performed the play several times during 2014-2015, raising awareness of the devastating effects of government action against vulnerable claimants and Job Centre employees.

In February 2015 an article about Angela Neville's involvement in the project appeared in The Guardian. This generated an astonishing response, including requests for copies of the script from theatres, campaign groups, universities, activists, charities and individuals.  These included; 
The TUC
Media tutors at the universities of Glasgow, Falmouth and Brighton
Focus E15 Housing Campaign
Transfer Theatre Company (Northern Ireland)
Brighton Benefits Campaign,
The Care Society (Aberystwyth),
DARTS Arts Charity (Doncaster)
Inside Intelligence Theatre Company (Hove)
Dramatic action (Bolton)

Church Action on Poverty

LBC and Al Jazeera UK
In 2016 the writers adapted the stage play for EAT to allow greater access to the characters and their stories.
This audio production is free to download for non-commercial use.